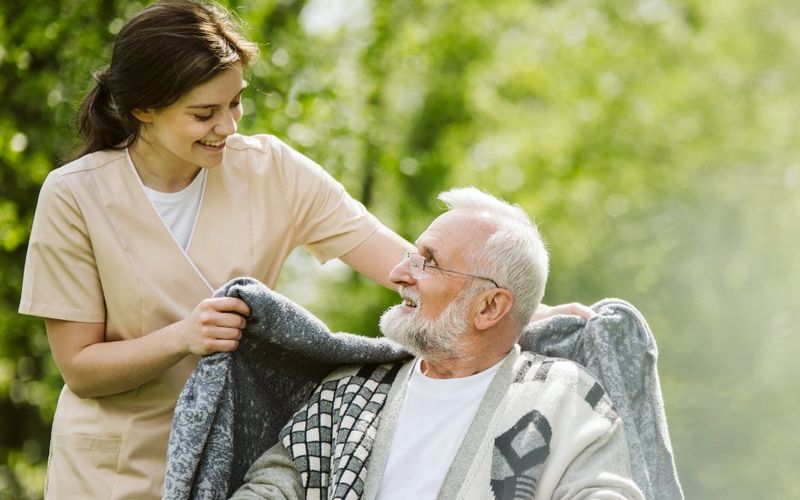 Canada is the best place to be if you're a caregiver. We have a growing demand for child and home care providers across the country and in the most liveable cities. From nannies to personal aides, we need caregivers to fill various essential positions. One way Canada commits to combatting the shortages of caregivers is by making it easier for foreigners to work in Canada and permanently settle in the country through the Caregiver Immigration Pilot.
The first step is to find a job in Canada as a caregiver. In this blog, we share top tips on how caregivers from overseas land their dream jobs in Canada and what requirements you need to satisfy to apply for permanent residency.
Do you qualify to work in Canada as a caregiver? Find out with our online eligibility assessment today.
Types of Caregiver Jobs in Canada
Caregivers provide essential care and services to the most vulnerable people in a society which include the elderly, people with disabilities, and children. Canada's rapidly aging population means that there are thousands of seniors who are currently looking for caregivers in an in-home environment. At the same time, working parents are constantly hiring child caregivers to take care of their children when they are unable to.
Home support workers
Home support workers provide personal care and companionship for seniors, persons with disabilities, and convalescent clients. Care is provided within the client's residence, in which the home support worker may also reside. They are employed by home care and support agencies and private households. The average home support worker's salary in Canada is $34,125 per year but more experienced workers can make up to $49, 591.
Secure a job in Canada in one of the home support worker positions below to be eligible for the Caregiver Immigration Pilot.
Home Support Workers
Attendant for persons with disabilities - home care
Family caregiver
Home support worker
Housekeeper
Live-in caregiver - seniors
Personal aide - home support
Personal care attendant - home care
Respite worker - home support
Doula
Home visitor - infant care
Home child care providers
Home child care providers care for children on an ongoing or short-term basis. They care for the well-being and physical and social development of children, assist parents with child care and may assist with household duties. The average child-caregiver salary in Canada is $28,623 per year but more experienced workers can make up to $32, 079.
Secure a job in Canada in one of the home child care positions below to be eligible for Caregiver Immigration Pilot.
Home Child Care Providers
Babysitter
Child care live-in caregiver
Child care provider - private home
Nanny
Parent's helper
Babysitter - fitness/shopping centers
Foster parent
How to Work in Canada as a Caregiver
Get a Valid Job Offer

First and foremost, to qualify for the home care provider pilots, you will need an official job offer from a Canadian employer which shows it will be a full-time position wherein you work a minimum of 30 hours a week.
Job Tip #1
Make your job hunt easier by looking for a job in the right places. According to the Job Outlook Report, caregivers in Canada are most in-demand in Nova Scotia, New Brunswick, Ontario, and the Yukon territories. In Nova Scotia, for example, the healthcare system is shifting people with chronic illnesses and disabling conditions away from hospitals and institutions towards more community-based home-care settings.
Job Tip #2
You can also look at employee placement agencies such as Trafalgar Personnel. For a fee, they can help match you to suitable jobs in Canada based on the position you're looking for: nanny, au-pair, caregiver, babysitter, housekeeper, etc. These agencies are trusted by Canadian families to handle the entire placement process. However, it's important to know that the agencies can not apply for your work permit on your behalf. Only Regulated Canadian Immigration Consultants (RCIC) or immigration lawyers may legally provide these services.
Job Tip #3
Employers in Canada and job placement agencies are more likely to hire caregivers with formal training and work experience. Be sure to update your resume with contactable references and ask your past employers for recommendations.
Apply for a Work Permit
Caregivers with valid job offers can apply through the Home Child Care Provider Pilot or the Home Support Worker Pilot for an occupation-restricted open work permit under the International Mobility Program. An occupation-restricted open work permit allows you to work for any employer but only in the occupation specified. It also means that employers no longer fund travel expenses and you are responsible for all costs associated with the application process.

Besides needing a valid job offer you also need to prove your language skills in either English or French and have a post-secondary education qualification of at least 1-year (certificate, degree, diploma). You can take an approved language test such as IELTS that costs about $250. If your qualification was not obtained in Canada then you must get an Educational Credential Assessment (ECA) from an approved organization such as World Education Services (WES) which costs around $280.
Take a look at the additional requirements below:
Home Care Provider Pilots Requirements
Requirements
Details
Language Proficiency
Minimum scores of CLB 5 in English or NLCL 5 in French
Education
Post-secondary education credential of at least 1-year
Valid job offer
There must be a genuine need to hire you and the job offer must be made using an IMM 5983 document
Ability to work
Canadian officials use your past experience or training you have to decide if you're able to do the work described in the job description
Medical examination
A medical exam must be done by an approved panel physician in your country
Police clearance
Needed for all countries you have lived in for 6-months or longer
Note:
If you don't have post-secondary education but can show past experience or training in childcare or home support you will also be considered. However, this will then require you to also complete one year of post-secondary school education in Canada.
Applying through one of these pilots to work in Canada as a caregiver means that you are also applying for permanent residency at the same time. Your permanent residency application will be put on hold until you have accumulated enough work experience.
Gain Canadian Work Experience

As soon as you find a job in Canada as a caregiver and meet all of the requirements stated above you will be issued a work permit and the countdown will begin! You need at least 24 months of work experience in-home child care or in-home support before a decision will be made about your application for permanent residence. You don't have to work 24 months in a row, just 24 months total. Make sure to keep any documents to show that you have 24 months of work experience such as job offers, contracts, and payslips.

Let Us Help You Immigrate to Canada as a Caregiver
Every year only a limited number of spots are available for the Home Care Provider Pilots. The applicants who meet all of the requirements and submit complete applications on time are the most successful candidates. At CanadianVisa.org, we specialize in assisting our international clients with their visa and immigration applications to ensure quicker and more promising results.
Our team of government trusted and certified Regulated Canadian Immigration Consultants (RCICs) will take care of all the paperwork, provide you with the correct documents to fill in, and apply for the pilot program on your behalf.
We take care of the fine print while you choose your job in Canada. All you have to do is complete our application form to receive your eligibility assessment today. It's just that simple.