Quebec is one of Canada's premier provinces concerning the influence it holds in the spheres of business and entrepreneurship, commerce, trade and finance, art, and entertainment. Almost all of its influence in these societal spheres comes from its two most populous cities of Montreal and Quebec City.
Quebec also is the sole Canadian province in which English is the first and most widely spoken language. Instead, that honor belongs to the French language due to the large number of people descended from the early French colonists who settled in the region where the province is located and quickly established the primacy of French culture.
The influence of French culture in the province is also readily observed from the many French place names and the Beaux Arts and French Gothic legacy architecture of the cities and towns. Its location next to the also highly populated Ontario makes the contrast between the two provinces' largely Anglo-Saxon and Francophone cultures more distinct.
If you love French culture and want to learn more about it then there is no better place than Quebec to do so except the mother country. Or if you simply just want to move to a place in Canada that is more culturally distinct than the rest of the country, Quebec is the place to be and the following presents a list of the best places to live in Quebec
Top 10 Best Places to Live in Quebec
The compilation of the best places to live in Canada can be broken down into ten places, though which places to include will generally vary depending on the distinct criteria applied about what is meant by 'best place'.
Quebec City
Quebec constitutes one-sixth of Canada's land area and is second only to Ontario in population. Its capital, Quebec City, is the oldest city in Canada.
Quebec was named in 1608, and the word is derived from the Algonquian term for "where the river narrows."
The first European to arrive in Quebec was French explorer Jacques Cartier. He was seeking a route to Asia to search for valuable minerals like gold and diamonds.
As Quebec City is a capital city, it has a lot of civil servants and administrators in the dominant service sector of the city. Quebec is a major transatlantic port and handles products conveyed on the St. Lawrence Seaway that transports goods to the Great Lakes region of North America.
The city is a hub of ports and rail lines that facilitate the local manufacturing industry, which produces newsprint, beverages and food processing, shipbuilding, garments, printing, and chemicals.
Most residents of Quebec are Roman Catholic and French-speaking, although English is common among tourist venues. A small percentage of the population is Anglophone and most schools offer instruction in French, with English being an exception when offered in some schools
The city's cultural institutions include the Grand Théâtre and a significant amount of notable museums. The Place-Royale Interpretation Centre, the Museum of French America, and Chevalier House are affiliates of the Museum of Civilization.
Lévis
Lévis in the Chaudière-Appalaches region of southern Quebec, Canada, is located south of the shore of the St. Lawrence River, across from Quebec City to which it is linked by ferry. It was established in 1647.
High above the town, the British general James Wolfe destroyed part of Quebec City in 1759 through bombardment. The community's name changed to honor the Duke de Lévis, who commanded the French forces in Canada..
An important industrial center, Lévis has dry docks that can accommodate very large ships. Significant manufacturing products include foundry and machine-shop products, lumber, tobacco, and furniture. The Lowtown of the city is located between high cliffs and the river and crisscrossed by railroad yards and wharves, while its Hightown rests on a steep included hill used as a residential area.
The city is the home of Lévis College. A major industrial and shipbuilding center is Lauzon which lies northeast of Lévis. It was incorporated into Lévis in 1989. Other additional communities were incorporated into the city as recently as 2002, ensuring the continued growth of the city's economy continues to grow and attract newcomers to the city
Boucherville
Founded by Pierre Boucher in 1667, Boucherville is one of the oldest cities in Quebec. Located along the shores of the St. Lawrence River, its unique heritage events and attractions capitalize on 350 years of history. Only 15 minutes from Montréal, Boucherville charms newcomers with its beautiful nature.
Borcherville is the heart of Vieux-Boucherville, a World Heritage Site considered to be one of Québec's architectural treasures. Marie-Victorin Boulevard is located along the river and has several points of access for pedestrians and cyclists to enjoy unique panoramic views of the Islands of Boucherville.
Residents are beneficiaries of several high-quality indoor and outdoor sports facilities. Quebec City has many opportunities for sports and recreation. The Triathlon-Duathlon de Boucherville aims to promote healthy living habits. Visitors discover habitats of ecological interest and can take part in harmonious activities with nature
Sherbrooke
Sherbrooke lies at the confluence of the Magog and Saint-François rivers. It began as a post for fur trading about120 km (75 miles) east of Montreal city and served later as a center for grist-milling in Canada.
Sherbrooke is an industrial, commercial, cultural, and administrative center and has importance as a regional transportation hub with several main railway lines and highways. A hydroelectric plant, asbestos, copper, and limestone are located in the city, and its woodlands are rich in birch, cedar, elm, and maple.
Textiles, heavy machinery, pulp and paper, dairy products, rubber, leather goods, and clothing are examples of diversified manufacturing in the city. A Roman Catholic bishopric and the Université de Sherbrooke have the city as their seat/headquarters. Numerous lakes and hilly terrain surrounds the city, and it has become a tourist spot in recent years.
Laval
Laval city occupies the whole of Île Jésus and lies north of Île de Montréal. It was settled in 1681 for the first time. the Society of Jesus received the city as a grant in 1699 and after that named it for François de Montmorency Laval, who holds the distinction of being Canadas's first Roman Catholic bishop. A parish called Saint-François de Sales was established in 1702.
Montreal suburban communities on the island developed relatively slowly in the post-World War II period. Due to industrialization and urban growth, in 1959, the Interurban Corporation of Île Jésus was created..
Laval city was created by combining the island's cities of Chomedey, Duvernay, Laval-des-Rapides, Laval Ouest, Pont-Viau, Sainte-Rose, and the towns of Auteuil, Fabreville, Îles-Laval, Laval-sur-le-Lac, Sainte-Dorothée, Saint-François, Saint-Vincent-de-Paul, and Vimont. Due to this amalgamation of different places into one today, the city is a melting pot of ideas concerning culture, sport, art and entertainment, and other elements of socio-economic life.
Montreal
Montreal is the second-most-populous city in Canada and the primary metropolis of Quebec.
Montreal has considerable French colonial history going back to the 16th century. It was a missionary settlement that quickly became a center for future trading. Montreal's location on St. Lawrence gave it a major advantage in developing it into a transportation, manufacturing, and financial center.
Half of the population in the city proper are French speakers, and two-thirds of the island population is. Religion in Montreal generally follows ethnic affiliations and traditions. Roman Catholicism is the dominant faith. Active practice of religion among Roman Catholics has diminished since the middle of the -20th century.
The aerospace industry is the biggest provider of employment in Montreal, which is a host to the headquarters for the International Air Transportation Association (IATA), the International Civil Aviation Organization, and the International Business Aviation Council. Transportation research and development is the largest in the country
Food processing, beverage making, engineering, software development, and the manufacture of telecommunications equipment and pharmaceuticals, along with printing and publishing, round out the list of major industries.
Throughout Quebec, the public school system supports bilingual instruction in French and English. The majority of educational institutions are French-speaking as per the majority Francophone population. Private schools are available in large numbers.
Montreal is a major cultural center because it hosts the Place des Arts, museums, public libraries, art galleries, bookshops in European languages, symphony orchestra, publishing houses, theatre companies, and free university public lectures.
Gatineau
Gatineau is located north of the Ottawa River, across from Ottawa. The city's name comes from the Gatineau River and was named after Nicolas Gatineau from the 17th century
Gatineau was part of Templeton West but was incorporated as a village separately in 1933. It earned status as a town in 1946 and a city in 1975.
The major industry in Gatineau's pulp and paper manufacturing dates back to the opening of the town's first mill in 1927. Other manufacturing products include building materials (plywood, fibreboard, acoustic tiles), precision and electronic equipment, and pharmaceuticals. A large service sector also exists in the city.
Based in the city is The Canadian Museum of Civilization and the University of Quebec. Northwest of the city is Gatineau Provincial Park.
Saint-Bruno-de-Montarville
Saint-Bruno-de-Montarville is a town that flanks Mont Saint-Bruno. It is a major tourist destination for gourmet/gastronomy, commerce, and recreation. Depending on the area, it can be very and provide a modern charm.
Main attractions of the city include Parc National du Mont Saint-Bruno, which offers a variety of outdoor activities. Shopping is a major source of recreation.
Works by public artists form a major part of the city's architectural attraction and have made the cityscape one of the most unique in the country.
Westmount
The anglophone population in Westmount can . Its proximity to the downtown area of Montreal, charming residences on Mount Royals Heights, luxury boutiques, and prestigious schools make it a prime immigration destination for English-speaking individuals. A certain level of affluence is needed to be a Westmount resident. It is listed as one of the most expensive places in Canada.
The English exception is cultivated by residents of Westmount through language, origins, attitudes, architecture, and urbanism. Highly homogenous, the population of Westmount is well-off and educated.
The area's real estate stock makes Westmount special. Lower Westmount has a density of affordable luxury apartments and well-aligned small houses.
Saint-Lambert
Saint-Lambert is mostly a residential community supplemented by commercial and institutional activity, which stimulates life in the area and makes it attractive.
The municipality has a rich history of natural and architectural surroundings. Victoria Bridge connects Montreal to the South Shore along the industrial-type buildings.
Today, Saint-Lambert is acknowledged as one of the wealthiest cities in Quebec. It has a reputation of prestige among its fellow citizens.
The Réseau de Transport de Longueuil (RTL) is responsible for bus transport in the city. Landscaped bike paths provide a network of trails for bikers and in-line skaters to practice their sport in a safe place. The path along the park Seaway connects to Brossard and Longueuil. The territory of Saint-Lambert has a lot of educational and healthcare institutions you can access, along with many cultural amenities, sports, and recreational activities.
What is Your Quebec Pathway?
There are many possible Quebec-specific immigration visa programs and pathways. Most programs target specific demographic segments of the foreign and international community based on that demographic's eligibility to provide the necessary skills, experience, and resources to contribute to the nation's economic fortunes.
The following presents a list of immigration pathways specific to Quebec that you can use to move to the province.
Quebec Skilled Worker Program (QSWP)
To gain Canadian permanent residency and work in Quebec then, you can use the Quebec Skilled Worker Program. The Quebec Skilled Worker Program selects applicants according to several factors. To be successful, applicants must score points to pass both eligibility criteria imposed by the provincial government of Quebec.
Your eligibility to apply for this program will be assessed and evaluated according to these factors:
Education
Area of training
Work experience
Age
Language proficiency
Family in Quebec
Spouse's characteristics
Validated job offer
Quebec Pilot Programs
The Quebecois government created three immigration pilot programs, each made to assist applicants fill specific gaps in Quebec's labor market. They are
The Permanent Immigration Pilot Program for Food Processing Workers:
The Permanent Immigration Pilot Program for Workers in Food Processing is a program that came into effect on March 24, 2021, and will close on January 1, 2026.
The application intake period is from November to December, or until the maximum number of candidates is reached. The program was created to assist Quebec employers in meeting the demand for skilled workers in the food industry.
To be eligible to apply for this program, you must:
Be employed in an eligible occupation in food processing
Hold an eligible job full-time in Quebec for a minimum of 24 months in an eligible sector during the 36 months before the application dealine.
Have intermediate oral knowledge of French at Level 7 of NCLC
Be 18 years old or more
Have Intentions to live and work in Quebec
Respect the conditions outlined form your stay in Quebec
The occupations (with NOC codes) that are eligible for this program are:
NOC 94140: Process control and machine operator, food and beverage processing
NOC 85100: General farm worker, but only in the position of chicken catcher
NOC 94142: Fish and seafood plant worker
The Permanent Immigration Pilot Program for Orderlies
The Permanent Immigration Pilot Program for Orderlies ensures orderlies working in Quebec with a temporary foreign workers permit can settle permanently in Quebec.
To apply for this program, you must meet these eligibility requirements:
Work as a temporary foreign worker in Quebec for these occupations: orderly, nurse aide, or patient service associate
Have fluency in spoken French
Have work experience in Quebec as an orderly
Intended to live and work in Quebec while working
Respect the conditions outlined form your stay in Quebec
These are the eligible occupations for the program:
NOC 33102: Process control and machine operator, food and beverage processing




Permanent Immigration Pilot Program for Workers in the Artificial Intelligence, Information Technologies, and Visual Effects Sectors

The Quebec Permanent Immigration Pilot Program for workers in artificial intelligence (AI), information technologies (IT), and visual effects allows foreign workers or Quebec graduates in AI, as well as foreign workers in IT and visual effects, can settle in Quebec permanently.

To be eligible to apply for this program, you must:

Be a foreign worker or have graduated from a Quebec institution in artificial intelligence, or a foreign worker in IT and visual effects.
Speak French proficiently if you want to apply with a Francophone profile
Hold or have accepted a job in Quebec's AI, IT, or visual effects sectors
Have met the l requirements for Quebec's immigration programs like work experience in an eligible job and sector

Quebec Experience Class (PEQ)

The Quebec Experience Class allows international students or skilled temporary workers to apply for permanent residence in Quebec, Canada. To apply for this program, you can do it under these two categories:

Quebec Graduate

Qualify as a graduate of an eligible Quebec institution. A minimum of 12 to 18 months of work experience in Quebec

Skilled Temporary Worker
Have experience in a skilled job in the province for a minimum of 24 months
The Arrima platform is the site through which you can apply for this program.
Entrepreneur Program
There are two streams for the program. Stream 1 is for foreign entrepreneurs looking to start and run a business in Quebec. Stream 2 is for foreign entrepreneurs who want to buy and run a business in Quebec. The minimum eligibility requirements are as follows:
At least a start-up deposit of $200,000 and $300,000, as well as $900,000 personal net worth
Ownership and control of a portion of a minimum 25% or quarter of the equity in the business
To own and control at least 51% of the enterprise if you buy a business
Be involved actively in managing your business
You must score points on the selection grid
Be in possession of an attestation of learning for Québec values and democratic values
The other commonly used programs for business immigration to Quebec are the:
Please note both of these programs have their own set of eligibility requirements that you must consult before you decide to apply.
The Family Reunification Program
The Family Reunification program in Canada allows Canadian citizens and permanent residents to sponsor their family members to immigrate to Canada. The program allows spouses, common-law partners, conjugal partners, dependent children, adopted children, parents, grandparents, or orphaned relatives under 18 to be sponsored to move to Canada by a relative already holding PR status.
The basic eligibility requirements needed to sponsor the different members of your family include:
Your spouse or conjugal partner must be a minimum of 16 years old when submitting your application
The sponsor must demonstrate their financial capacity to sponsor a dependent child
The sponsor must show they can support their parents financially Applying for
Work Permits
Sometimes you may be unfortunate enough to be ineligible to apply for a permanent residency immigration visa program or your application for PR status failed. In this case, you can use work permits to gain temporary legal entry into Canada for a specified period. In due time, this temporary experience of settling in Canada to work, live, or study will provide you with a pathway toward obtaining permanent residency.
There are mainly two types of work permits available: open and employer-specific work permits.
Open Work Permit
This permit is for immigrants working for any employer for a specified period. Recipients of this work permit can change their employers should they wish.
Employer-specific Work Permit
Employer-specific Canadian work permits are issued to immigrants who receive a job offer from a Canadian business. This permit is tied to the employer and the job that was offered. To apply for this program, you need to:
Check your Eligibility
Choose Work Permit Type
Gather the required supporting documentation
Complete the Application form
Pay Visa Fee
Submit Application
Prior to checking your eligibility, you can assess your Comprehensive Ranking System (CRS) score by using the CRS Calculator on our site.
Take Steps To Live Your Best Life in Quebec Today!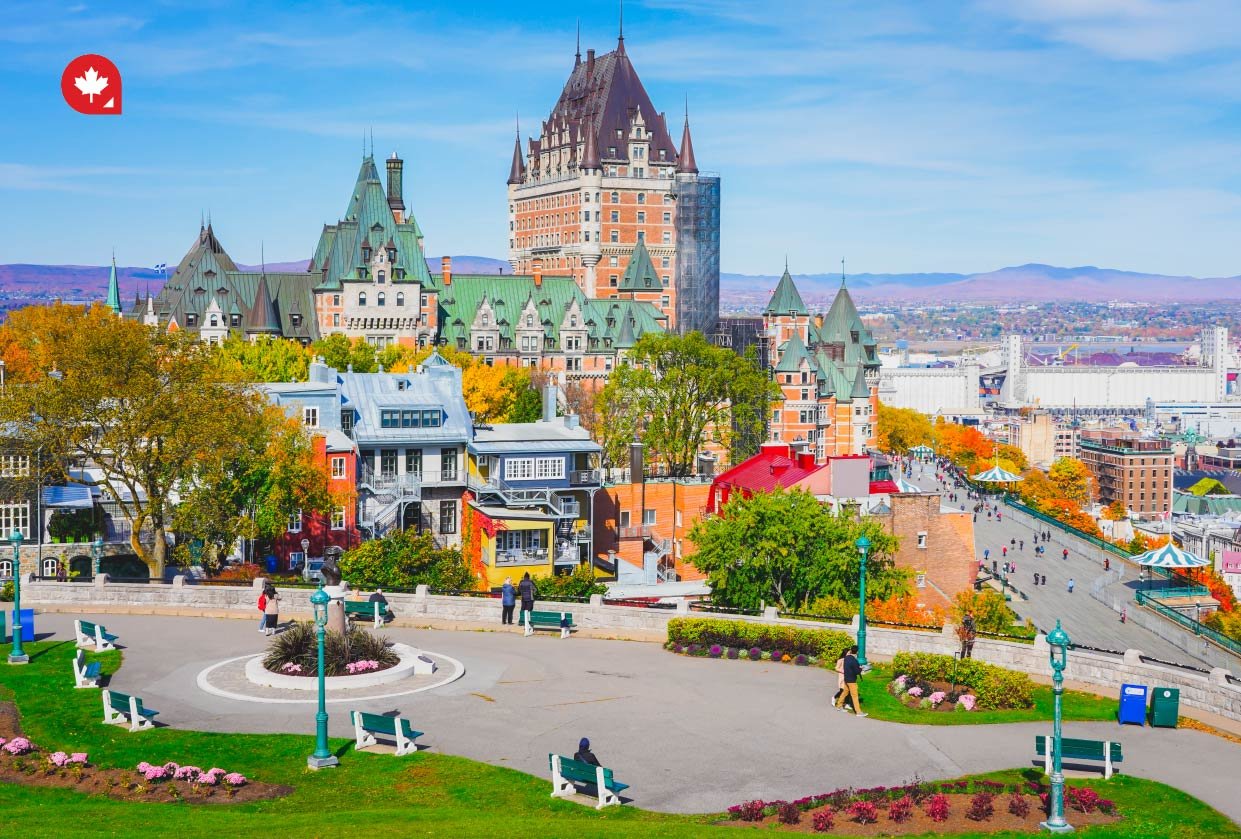 Regulated Canadian Immigration Consultants (RCICs) are licensed immigration consultants authorized to represent and guide individuals through the application process. They examine immigration visa applications and submit them on your behalf to Immigration, Refugees, and Citizenship Canada (IRCC).
RCICs can answer applicants' questions regarding the process of immigration. The College of Immigration and Citizenship Consultants (CICC) has a register of RCICs that can be used to validate an immigration consultant's status.
FAQs
What are the Most Interesting Places in Quebec?
Quebec is chocked full of culturally enriching, horizon-expanding experiences. Here are just a few of the places that pique visitors' interest when visiting Quebec.
The Canadian Museum of History
Quartier du Petit Champlain
Mont-Tremblant
Old Montreal
Hôtel de Glace
The Montreal Botanical Garden
Mount Royal
Old Quebec
What is the Most Affordable Place to Live in Quebec?
This is highly dependent on your wage/salary and the industry you work. However, these are the three cities generally considered to the the most affordable in Quebec:
Gatineau
Sherbrooke
Lévis
Are There Any National Parks in Quebec?
Quebec has around 24 national parks, all of which are accessible and open to the public either at different rates of entry or none at all.