Set in the most expansive wilderness, Canada has what may seem like an endless supply of natural wonders for its citizens and those from abroad choosing to wander through it. While each season in this beautiful country comes with its majestic characteristics, the fall, with its fanfare of rust-coloured foliage, adds a mystical filter to the Great White North. If you'll be in Canada from September to November, here is our Ultimate Bucket List for Fall in Canada.
Why You Should Get Excited About Fall In Canada
Canada is bursting with a bounty of rusty shades throughout the fall, making it a haven for those in constant search of the most "instagrammable" spots and those who just appreciate the sweater and pumpkin-spice latte weather. The mild weather is ideal for venturing out and about, so take a look at which activities you can tick off your list.
Northern Lights Display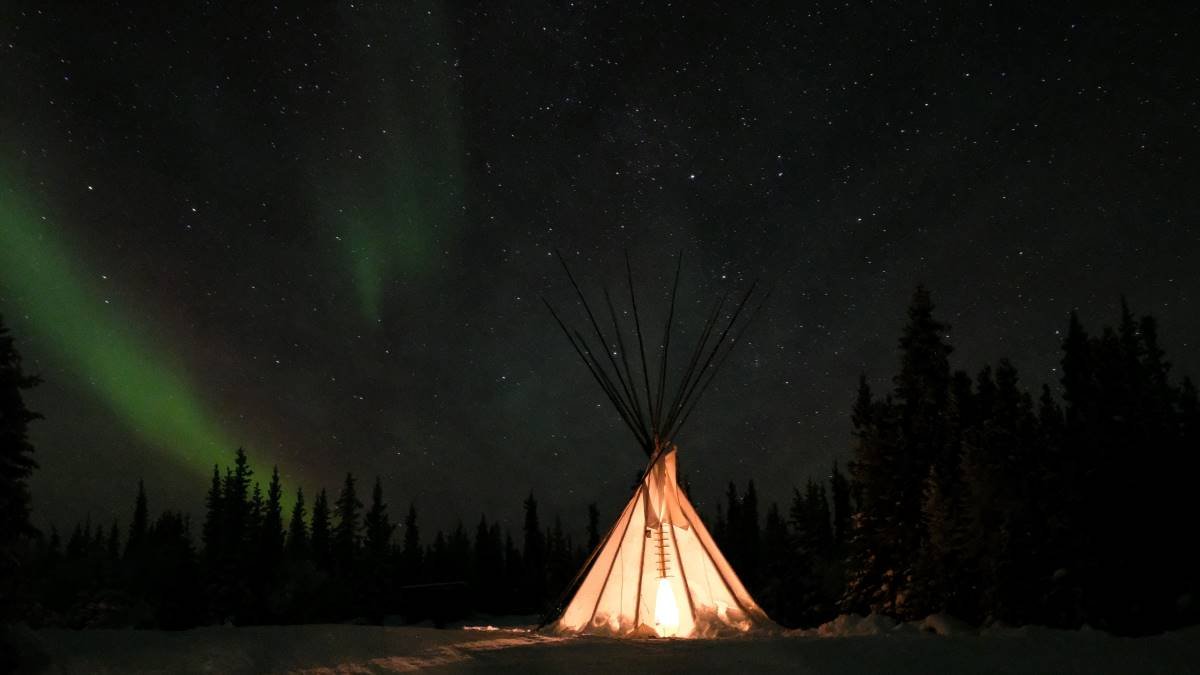 You cannot visit Canada without seeing the Northern lights. The Great White North's most northwestern territory, the Yukon is sparsely populated, with little light pollution. This makes it the perfect place for Aurora Borealis sightings. Regulars recommended taking in the pitch-black sky from a luxurious outdoor hot tub, but any setting will do.
Other places to view the Northern lights from Yellowknife, Churchill – Manitoba, Banff & Jasper (for summer), Tuktoyaktuk, Iqaluit, and Kuujjuaq, Quebec.
The Cranberry Plunge
If cranberries are your favourite, you'll have the opportunity to quite literally dive into it at Muskoka Lakes Farm & Winery in Ontario. Experience the life of a cranberry grower by taking the Cranberry Plunge, and walking into a pool of floating cranberries. You'll have time to splash around while having the most amazing photoshoot. You can also add a wine or wagon tour to the experience.
Pumpkinferno
What is fall without pumpkins everywhere? If spotting them gets you all nostalgic, Punkinferno will take that to the next level for you. Set in Upper Canada Village, Morrisburg, Ontario, you'll find around 7000 carved pumpkins transformed into the most incredible 1-kilometer art exhibition, all set up against the most fantastic 19th-century backdrop.
Prepare to be mesmerized by artist-inspired, glowing pumpkins that have been fashioned into all sorts of shapes and characters. With something to captivate every age group, this is an experience not to be missed.
The Canadian Salmon Run
You cannot think about Canada without thinking about an abundance of salmon. For this reason, the country's salmon runs are a must-see. The early salmon run in Goldstream Provincial Park, in Langford, British Columbia, is undoubtedly a fall highlight. And not just for us humans. You'll find black bears and bald eagles looking to join in as thousands of Chinook, Chum and Coho salmon make their way up the Goldstream. It is a real treat to enjoy nature at its finest, seeing the salmon head upstream for spawning season while the bears and eagle swoop some up for a feed. While there, you can also head to the Capilano River Hatchery in Vancouver, where local salmon species are bred and protected.
Salute to the Sockeye
Still, on the topic of salmon runs, you might also want to check out The Salute to the Sockeye. Celebrated by indigenous groups for years, the event takes place in the dominant year of the four-year cycle (2022, 2026, 2030). Reports show that around 2.2 million sockeye return to the Shuswap Lake in an average dominant run year. A considerable amount of this sockeye spawn can be found in the Adams River in the region between Adams Lake and Shuswap Lake.
Get Lost in An 11-Acre Corn Maze
You'll want to try this one if you've never ventured into a maze. At Downey's Corn Maze Adventure, you'll find intricate pathways to navigate as you try to get to the exit point of the corn maze. This year's offering is over 8km long. The fun includes a scavenger hunt and various other games, making getting lost quite fun. This a-Maze-ing experience runs until October 31, 2022.
Picture-perfect Lunenburg
A fishing village in Nova Scotia, Lunenburg, used to be a rum-running and ship-building port town. Today it is a UNESCO World Heritage Site, and the ideal setting for those postcard-like images. If you love that quaint, small-town feel, you'll be charmed by all the brightly painted British Colonial buildings, which, together with the autumn shades, can be pretty stunning. Make sure you book a history tour and have a buddy to play photographer.
Polar Bear Season
Every year, Canada's polar bears migrate from inland areas to the Hudson Bay shoreline and Churchill. There are believed to be around 1,200, if not more, that make this fall move. The migration period is usually from around October to the beginning of November.
Getting a Canadian Visitor Visa
To travel to Canada, you will need a Canadian visitor visa (also called a temporary resident visa). This official document proves that you have met the criteria for entry to Canada. Chances are, you'll probably also require one if you'll be transiting through a Canadian airport en route to another destination.
Types of Visitor Visas
The Multiple-entry Visa
This visa allows you to enter Canada for up to 6 months for about ten years, or until your current passport expires. When your passport expires, you can apply for a new Canadian visitor visa.
The Single-entry Visa
With a single-entry visa, you'll be allowed entry to Canada once. Entry will be allowed under the following circumstances:
For an official visit
If you qualify for a fee exemption
If you're going to be part of a Canadian event
You'll be able to apply for a Canadian visitor visa online or on paper. But before you apply, make sure that you really need one. You'll need either a visitor visa or an Electronic Travel Authorization to travel to Canada. This will depend on:
The kind of travel document you have
The country this document was issued by
Nationality
Your mode of travel to Canada
If you're planning a working holiday in Canada, find out how you can get your adventures started here.
Get Everything on Your Canadian Bucket List Ticked Off
With so much scope for the greatest of adventures in Canada, we'll probably never be able to touch on all the potential bucket list activities it offers. Suppose you're planning a trip or working holiday to Canada, are a newcomer to the country or are undertaking your studies at a Canadian university. In that case, this is the ideal time to work on ticking off as many activities and excursions as possible.
Not sure how to make your Canadian dreams a reality? Our qualified RCICs can help you choose the best visa options and take you through the application process. Why wait a moment longer? Start your Canadian adventures today.
FAQS
How Can I Extend My Stay in Canada After My Canadian Visitor Visa Expires?
You could apply for a visitor record. This will give you a new expiry date for your visa.. You have to apply at least 30 days before visitor visa expiry. You can apply online for this extension on the Canadian government website.
What is the Processing Time for a Tourist Visa?
The Canada tourist visa processing time will differ from country to country. Check the Canadian government website for processing times for your country.
Is the International Experience Canada (IEC) Currently Open?
Yes, however, the IEC does have an on and off-season. The season generally starts around March, but it depends entirely on your country of origin.