Are you planning to visit Canada this fall but are slightly strapped for cash and aren't sure which direction to point that compass in? Canada has an array of amazing fall destinations to explore on a budget.
Let's face it, planning a trip is stressful and time-consuming, and you probably already have your hands full with booking accommodation, flights, and planning your itinerary. Who needs the extra hassle of worrying about getting your Canada travel visa in time or whether all your forms and documents have been submitted correctly. By using a professional consultant you not only save yourself a lot of time but you also won't run the risk of having your application denied, causing you to have to delay your plans to visit Canada this fall.
Our agents deal with visa applications daily and are well versed in Canadian government policies and will have you packed and ready to travel to Canada in no time. We help thousands of people with their visa applications and can do the same for you.
Most people consider visiting Canada in peak season, however, the most popular time to visit is not necessarily the best time to visit Canada.
Believe it or not, the best time to travel to Canada is actually during fall and with the holidays approaching, a quick getaway on a budget may be just what you need to carry you through to the festive season.
Not only is Canada strewn with golden fall foliage, but there are numerous fall festivals to enjoy, and not to mention fall prices, which tend to drop after the summer crowds have dispersed.
We've selected our top ten destinations in Canada to choose from without breaking the bank.
1. Niagara Parkway: Ontario
Niagara Parkway or "River Road" traces the curves of the Niagara River, dividing Canada and the United States. The best time to see the fall foliage is in early October. Be sure to take in the breathtaking views from Niagara falls or sample some wine from one of the surrounding vineyards.
2. The Rocky Mountains: Alberta
September and October are ideal for visiting the Rocky Mountains in Alberta as the days are warm and dry, and the summer crowds have already passed through. By this time, the subalpine larch and aspen trees are feathered with red and yellow leaves. Some beautiful locations to consider are Johnston Canyon where you can find exquisite waterfalls, creeks, and cliffs, Tunnel Mountain, which offers a great view of Banff National Park and Bow River, or enjoy a cuppa from the top of the mountain at the historic Lake Agnes Tea house. Be sure not to miss the Banff Legacy Trail to observe some of Canada's wildlife.
3. Butchart Gardens: Victoria, British Columbia
The award-winning Butchart Gardens in Victoria, British Columbia boasts an exquisite Japanese garden, showcasing crimson maples and golden chrysanthemums, which usually peaks from late September to mid-October. The city also offers plenty of attractions leading up to Halloween, including Pumpkinfest, Festival of Fears, and Victoria Ghostly Walks.
4. Algonquin Provincial Park: Ontario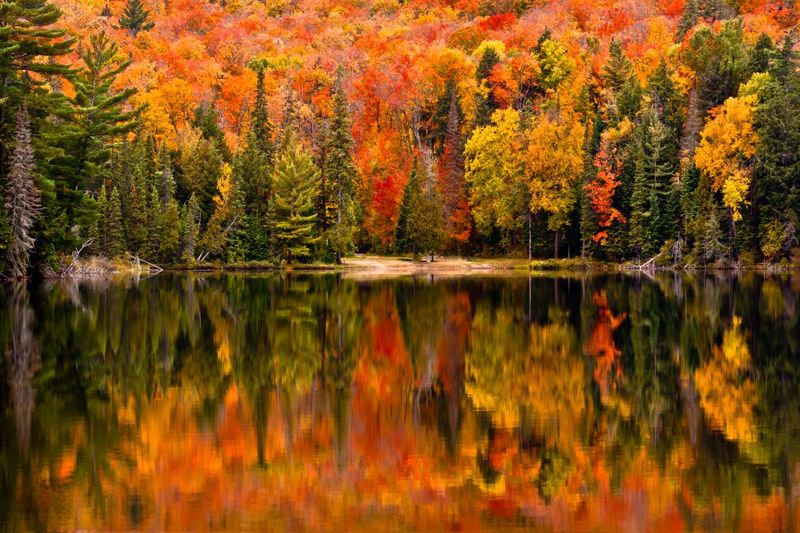 Algonquin Park has thousands of lakes and rivers to explore by canoe or foot and is the ideal place to lose yourself in the tranquillity of the dense forests of aspens, tamaracks, maples, and red oaks. It is Ontario's oldest and most popular park and is best experienced during mid to late October.
5. Okanagan Valley: British Columbia
The Fall Okanagan Wine Festival, which takes place in October, boasts over 150 events to indulge in, including wine tastings, pairing, and seminars. You can enjoy gourmet dining overlooking the scenic Lake Okanagan or treat yourself to a luxurious spa treatment in the warm summer evenings.
6. Mont-Tremblant: Quebec City
Mont-Tremblant is one of the most visited ski resorts in Canada. It is surrounded by the Laurentian Mountains which are brilliantly blanketed in warm hues during the autumn months. There are plenty of fall activities to enjoy including hiking, biking or simply indulging in the mouth-watering French-influenced cuisine.
7. Cabot's Trail: Cape Breton Island, Nova Scotia
Cabots Trail in Cape Breton is one of the most scenic drives to take in autumn, where roads wind along the magnificent northern coastline and stretch through Highlands National Park. It is peppered with spectacular fiery shades, which reaches its pinnacle in the first week of October.
8. Whitehorse: Yukon
Whitehorse may seem like a strange addition to our top ten however it's here for a reason. It is one of the best places to adore the striking natural light show of the Northern Lights. This is an experience that cannot be missed and is worth it to travel to Canada, if not for anything else.
9. Confederation Trail: Prince Edward Island
The moderate climate during fall makes Prince Edward Island the perfect place to kick your shoes off and relax. Fauna free forests are filled with vibrant autumn colored maple, cherry, sumac, maple, beech, birch, and poplar trees. The Confederation trail has the world's longest bridge that crosses ice-covered water and is best experienced in mid-September to late October.
10. Fundy Coastal Drive: New Brunswick
Mid-October is the opportune time to take a road trip down the twisting roads along the Bay of Fundy in New Brunswick, as its seasonal transformation hits full swing. Discover this maritime region at your own pace, taking in the serenity of this charming seaside town.
Still not convinced? Visit our blog here for more Autumn Activities in Canada.
Why Use Canadian Visa?
Enticed to visit Canada? Remember that you'll need a Canada tourist visa to visit one of these amazing destinations. There are 2 types of visitor or tourist visas - a single or multiple entries.
A single entry visa will allow you to enter the country once and to travel throughout Canada before leaving. You will only need multiple entries if you plan on traveling in and out of Canada.
Not sure about all the regulations and requirements for a tourist visa? Why not let one of our informed and accredited RCICs guide you through the application process. Better yet, if you're looking for a more permanent change, we can help with that too. Our professionals are registered with the ICCRC and are legally permitted to verify all documentation, forms as well as all supporting documents and submit your application correctly and timeously for you. No hassle, no fuss, and no need to risk your fall holiday plans.
All you have to do to get the ball rolling is to fill out our application form to receive your assessment today and you'll be one step closer to traveling to Canada this fall.